Commercial & Industrial Flooring
Commercial Epoxy Flooring is a great option for high-traffic areas. It provides durable, easy-to-clean flooring at an affordable price.
Ready to Get Started?
GET A FREE QUOTE
Utah Commercial Epoxy Flooring
Our experienced team at Elite Concrete Coatings understands how important it is to a business owner to have durable and safe flooring for employees and customers. Our commercial grade epoxy flooring can enhance and protect the areas that need it most! Not only does it give floors a very expensive-looking finish, but it provides durability and safety with specific non-slip microbial additives. We can also provide limitless color options and patterns as well as metallic pigments and glitter to add shine.
Get The Professional Flooring You Need
To get started on your epoxy flooring, you'll need to first choose a color, whether it's a stain or solid color. Next, you have the option to choose several different additives including metallic, non-slip, anti-microbial, or silica sand. You won't regret working with the flooring professionals at Elite Concrete Coatings!
Commercial & Industrial Flooring- Servicing All of Utah
We provide commercial & industrial flooring in Salt Lake City, surrounding areas, and throughout the state of Utah. Some of the areas we service include South Salt Lake, North Salt Lake, Bountiful, Ogden, Magna, West Valley, Orem, Provo, Park City, Coalville, among others.
If you are unsure what flooring you are wanting, feel free to search our gallery and product options. You can also do a Google search to find what type of flooring you like. All we need is a photo and we can match the look. The possibilities are endless when it comes to our commercial & industrial flooring options. Contact our professional flooring team today to get started! 
We take pride in our commercial projects. For years, Elite Concrete Coatings has been providing business owners of Utah the best epoxy flooring. We have made it pretty easy to create custom epoxy flooring that will fit your commercial flooring needs. You can expect great things from our industrial epoxy floors:

Commercial Flooring Services Are Perfect For:
Warehouses
Industrial Shops
Hospitals
Medical Rooms
Commercial Kitchens
Airplane Hangers
School Offices
And More!
Types of Finishes:
Concrete Polishing
Staining
Grinding & Sealing
Epoxy & Flake
No Job is Too Big or Too Small
Whatever space you need to have coated or resurfaced, our team of flooring experts can help. We take pride in every job and make sure we put the the necessary preparation into our commercial flooring for professional results.
Diamond grinding of the surface is a must with custom epoxy floors. The roughened surface of a diamond ground floor allows the product to adhere properly so peeling/flaking never becomes an issue.
Rely on Elite For Industrial Epoxy Flooring
With our proved track record, we can transform worn out and unsightly flooring into something attractive that meets your style and specifications. We also take your time very seriously and can install new flooring & have it cure quickly so it disrupts your business as little as possible.
Benefits of Commercial Epoxy Flooring
Epoxy flooring is much better than any other flooring alternative for many reasons.  Benefits of Epoxy flooring:
Easy To Clean

Stain Resistant

Slip Resistant

Odor Resistant

Customizable

Durable & Long Lasting

Eco-Friendly

Great For High Traffic Areas
Give us a call today at (801) 946-0929 or request an estimate below. 
Concrete Staining
Ready to transform your concrete into a work of art?
Epoxy Flooring
Custom epoxy flooring gives floors a very expensive-looking finish.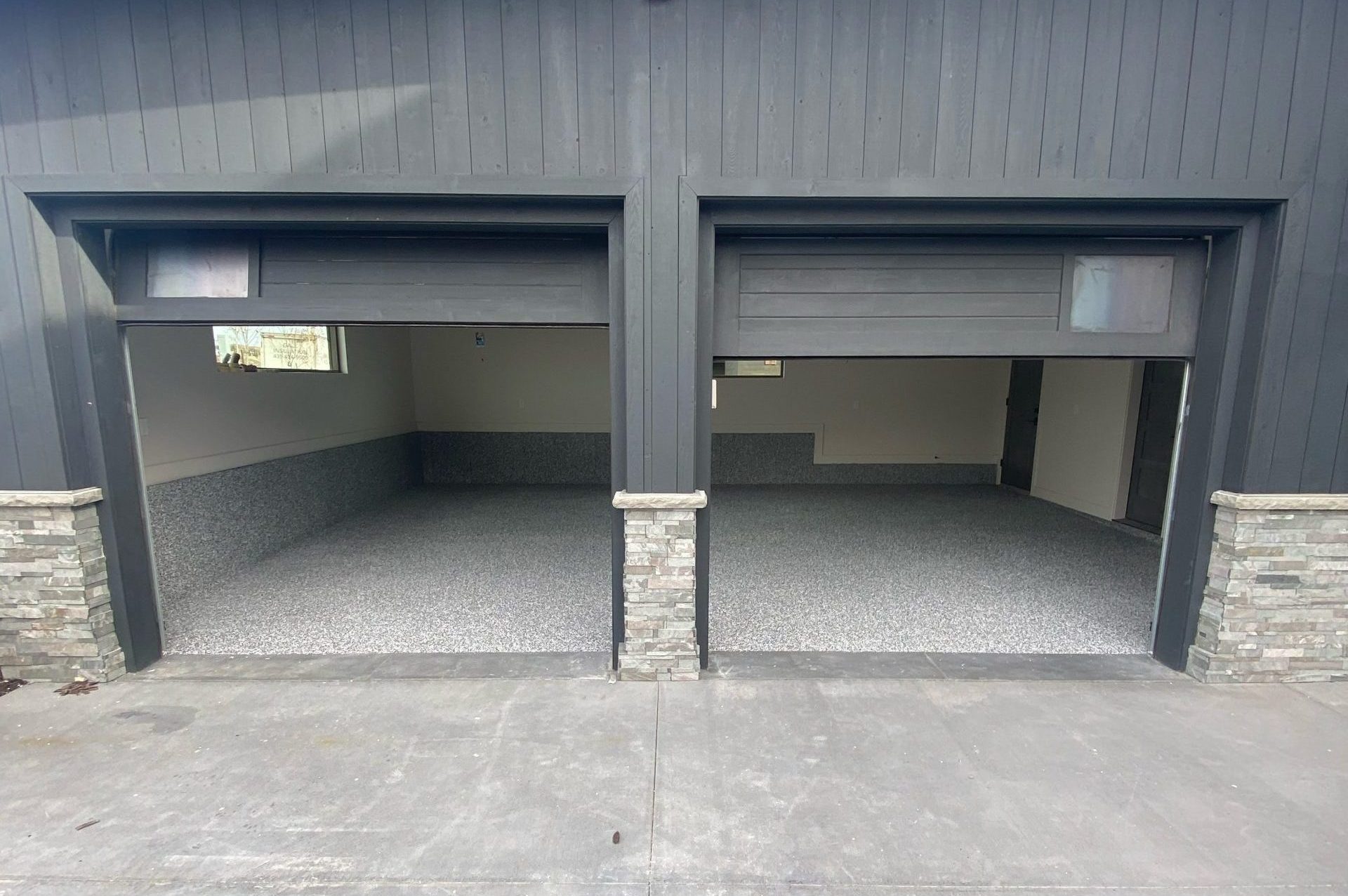 Garage Floor Coatings
Open your garage and see beautifully coated concrete!
service area
Utah, Idaho, Wyoming, Nevada, & Montana
Hours
Monday - Friday
8am - 6pm
Saturday-Sunday
Closed